Pet Sitter Caroline Horler
Born in Reading, Berkshire - I qualified as a veterinary nurse in 2000.
I had always wanted to work with animals - mum said I wanted to be a vet when I was five and seemed to always have a natural affinity with all types of animals.
I have worked in Central London as the head nurse of a busy referral centre since 2004 and that's where I first started pet sitting. When clients worried about going away and leaving their pets behind they came to me to ask if I could help.
After moving to Greenhithe in Kent and travelling in to London each day I realised that there was no one here able to take care of my own cat, Jaguar! And if I chose to go away I didnt want to put him in a cattery - hence the idea of caring4paws was born.
Not only did I realise that there was nobody nearby - I also realised there is no real regulation on being a pet sitter so a lot of people out there have chosen pet sitting as a way of escaping the rat race.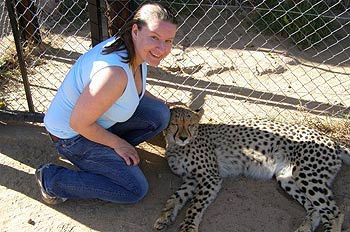 I feel that as a qualified veterinary nurse and a pet owner myself I have all the skills to provide the best level of pet care and this is why i have established caring4paws.
Now that the business has grown I have now chosen to work out of London to make myself more available to my four legged friends in and around Greenhithe and other areas in North Kent. But I do consider it important to keep nursing in order to maintain my skills and knowledge in animal healthcare - so I also work part time at Bayswater Veterinary Referrals in London.
My aim is to create a happy, safe and loving environment for your pets so that when you are away there is no need to worry - as they will be having a great time with me!
Holly Brown
Holly joined Caring4paws in February 2015 and has now become an integral part of the team offering not only dog walking but also home visits and house sitting for our clients.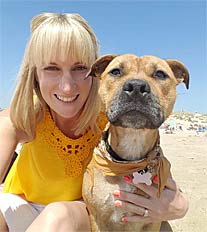 Having worked for a number of years as a veterinary receptionist and having grown up with dogs and cats, Holly brings a wealth of knowledge and experience with pets adding to the excellent service Caring4paws provides.
Holly has a beautiful dog of her own, Oakley, who has also become an honorary member of the team having grown up with all our clients' dogs and making friends with everyone. xx
"Happy Customers in North Kent"

Caroline was great with my cat! She was well and happy when I came back. Caroline kept me fully up-to-date while I was away with texts on how the visit had gone. I was very happy when I got back home after a week away."

Jayanti